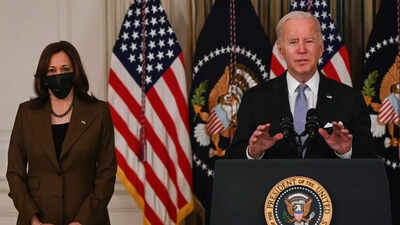 WASHINGTON: US President Joe Biden has conveyed to his supporters that he plans to run for the White House again in 2024 in an apparent effort to quell Democratic disquiet and infighting amid falling poll numbers for himself and his party. Biden and members of his inner circle have reportedly reassured allies in recent days that he plans to run for reelection in 2024, despite the widespread assumption that his age — he turned 79 on Saturday and he will be 82 by the time of the next election — will not allow a vigorous campaign.
Declaration of his intent to run is also aimed at snuffing out preparatory work by other contenders, including his vice president Kamala Harris, who is expected to make a bid for the party nomination should Biden bail out. "The only thing I've heard him say is he's planning on running again. And I'm glad he is," former Senator Christopher Dodd, a close friend of the president who was also part of the team that vetted Kamala Harris for running mate in 2020 told the Washington Post, which first reported on Biden's latest word to fundraisers.
The declaration of intent to run by a president who is already the oldest in US history comes amid growing anxiety in the party over its prospects in the mid-term poll of 2022 when the full House of Representatives and a third of the Senate — both of which are in Democratic hands — will be up for re-election. Harris is widely perceived in political circles as not being up to the mark to win a party nomination considering she failed to win any delegates in the 2020 race, despite which Biden picked her as a running mate.
The declaration of intent to run by a president who is alrea ..